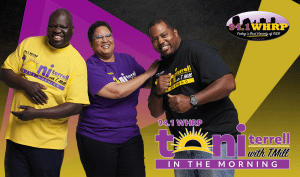 The Toni with T.Mill in the Morning show connects to the WHRP audience like no other Urban Format show in this region – LOCALLY with a Big City Sound!
Toni Terrell, a warm familiar voice and household name for the last 15 years in the Huntsville Market also known as 'Your Best Girlfriend,' brings 30 plus years of radio experience to service the airwaves of 94.1 WHRP weekday mornings. Waking the city up is like wearing an old hat for Toni who hosted the 'Wonder Woman' Morning Show at KSOL in San Francisco and the Best Girlfriend Morning Show at KHZZ in Sacramento. So, you might say she is returning to her early morning roots.
Tim "T. Mill" Miller, is a Huntsvillian, a real native of the Tennessee Valley! Tim, who is well known in the community, a Journalist and Teacher and currently a Part Time Instructor at the Maitland Conservatory where he teaches Music, Arts Tech and Music Production plus Live Streaming and Podcasting. T.Mill has worked in various mediums including FM radio, On Line Magazines and Digital Radio. Together Toni and Tim will deliver a fun, informative show that the Huntsville Market has been missing.
Check out That's My Business, Mondays at 6:20AM spotlighting small business owners and entrepreneurs in the Huntsville and Tennessee Valley. Plus, you'll know What's Good in the Neighborhood, everyday at 6:50AM when you find out about the new things going on and happening with businesses, people, and positive things affecting the community.